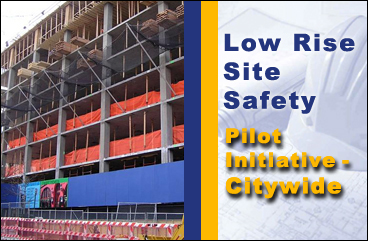 To ensure site safety for new buildings, the Department of Buildings is launching the New Low Rise Site Safety program. Effective April 2, 2007, all new low rise buildings being built in New York City, will be monitored by the Buildings Enforcement Safety Team (BEST). This initiative aims to ensure that required site safety measures are correctly applied and are in compliance with the NYC Building Code and Safety Code of the Fire Department of New York.

What buildings will be included in the new pilot program?


All new building applications that fall within the low-rise building criteria: buildings greater than or equal to 7 stories and buildings less than or equal to 14 stories.

What does the new low rise site safety initiative consist of?


The new site safety program will consist of weekly unannounced inspections, to be conducted by BEST, of new low rise buildings.

Why is the Building Department initiating the pilot program?


The pilot program is intended to ensure site safety practices are applied on new low rise buildings. Inspectors will monitor the site for the following:
Public Safety
Fire Protection
Housekeeping
Protection of the Sidewalk
Excavation Operations
Erection Operations
Additional areas of focus will include: concrete operations and falling debris, how material is stored, the relocation or movement of form work/reshores plywood, safety netting systems, and sidewalk protections.
Download a

 printer friendly (43 kb) version.